All of us, once in our life, have gone through losing important data. At this point, some people lose hope of recovering that data...
Yoodo is celebrating the climax of the ASEAN Football Federation (AFF) Suzuki Cup by supporting Harimau Malaya supporters with free international roaming! Thanks to...
TM has introduced their latest offering, the Unifi Mobile Postpaid. The new postpaid is very attractive as it starts at only RM19 per month. RM19 is...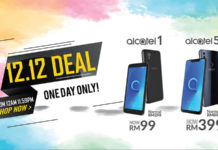 Alcatel has decided to slash their prices for the 12.12 celebration with two smartphones going really cheap for their specifications. The two smartphones that would...